Recommended Flash Drives that Store 4 Gigabytes
Here are some of our recommended flash drives that can hold up to four Gigabytes of data or media files. 4 Gigabytes is almost as much as a DVD can hold. Flash drives are a lot less of a hassle to carry around and store your valuable data. The 4-Gigabyte Flash drives are getting quite common as far as data storage and transportation is concerned. These flash drives give you the flexibility of backing up and transporting very large files. You can carry these drives in your pocket!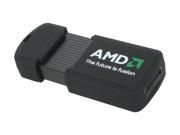 AMD Gift - Extreme Performance Xporter Rage 4GB USB 2.0 Flash Drive
$14.99
Features: Hi Speed USB 2.0 Compatible (backwards compatible to USB 1.1) Easy plug and play functionality Up to 20MB/s Read Compatible with Windows 7, Windows Vista, Windows XP, Windows 2000, Windows ME, Linux 2.4 and later, Mac OS9, X and later
Pretec I-Disk Tofu OYAKO 4GB USB 2.0 Flash Drive
$13.99
Cross-over character rubber design of TO-FU OYAKO and Pretec - Symbolize Pretec's brand spirit - Fun, Open and Passion for Technology & Creativity - Best as a gift or for collection USB Specification: USB 2.0
$6.99
Dane-Elec DA-ZMP-04G-CA-R3-R Capless USB Flash Drive - 4GB
Centon DSP4GB-007 Data Stick Pro 4GB USB Flash
$6.99
Centon Classic Pro USB Flash Drive 4GB (Grey) : DSP4GB-007 in retail packaging.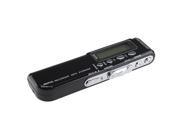 New 4GB USB Drive Flash Digital Voice Recorder MP3 Player Dictaphones
$23.99
Feature: Separated recording & playing keys: one key for recording, one for playing Two recording modes: a€aSPa€? for high quality recording voice without distorting. a€aLPa€? for long time recording Sleek appearance design and comfortable touch Recording telephone conversation Connect the recorder with the telephone via telephone adapter, the recorder can record telephone conversation Support multiple audio format, such as MP1, MP2, MP3, WAV, WMA No need USB driver Memory: 4GB With LCD display Built-in speaker Music playing function 128X64 lattice screen Different languages Recording indication Sound control function (VOR) available 7SQ modes: NOP, ROCK, POP, CLASSICAL, SOFT, JAZZ and DBB Powered by 2 AAA batteries (not included) Package Includes: 1 x 4GB Digital Voice Recorder 1 x USB Cable 1 x External Microphone 1 x Earphone 1 x Recording Cable 1 x Phone Cable 1 x Telephone/Recording Junction Box Recording Format: WMA / MP3 Recording Media: 4GB Speaker: Built-in Battery: 2x AAA-size batteries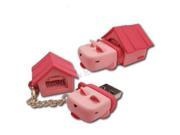 TCell Dog House 4GB USB Flash Drive (Peach Pink)
$11.99
Hot Swappable Easy Plug & Play Water and Shock Proof Risk Free of Losing Cap Zipper Bag Packed Eco-friendly Silicone Material Ready Boost: Yes USB Specification: USB 2.0 Color: Peach Pink Features: OS support: Linux 2.4 & above, Macintosh Mac OS 9.0 above, Windows 98, 2000, ME, XP, VISTA, 7
SEgoN China Style of Ceramic Design Series 4GB USB 2.0 Flash Drive Model Black Dragon-4GB
$10.99
Segon the first to the ancient Chinese craft ceramic materials to the introduction of technology products, and added elements of Chinese style, we call it "Ceramic Design". The product design is based on the legendary Black Dragon, White Tiger, Phenix, and Iron Dinoa€" the four great beasts of ancient Chinese. New packaging technology Patented packaging module, reducing the defect rate of products used to improve product durability, so your data more secure. Support Windows Ready Boost Support for Microsoft's latest hardware acceleration. Ready Boost: Yes USB Specification: USB 2.0 Features: 1. Segon C-Design. 2. Using ancient techniques, after biscuit firing, glazing, glaze and other 14 processes, three-three kilns to 1600 degrees of heat to burn out your flash drive the world's first ceramic. 3. Qinglong; the four great beasts of ancient Chinese. 4. New packaging technology Patented packaging module. 5. Chinese knot pendant. 6. Ready Boost support Speed up System. 7. Segon U2 software support. 8. 50 X 18 X 8mm (L x W x H) 17.5g Parts: 5 years limited Labor: 5 years limited
See some External Hard Drives>>
See some Network Attached Storage>>