Recommended Flash Drives that Store 16 Gigabytes
Here are some of our recommended Flash drives that can hold 16 Gigabytes of data and media files. A 16-Gigabyte flash drive isn't quite the most popular size yet. Not too many people need to carry around 16 Gigabytes of data but they are available if the need arises. Then again, I remember a time when a 10-Gigabyte Hard drive running a computer was huge!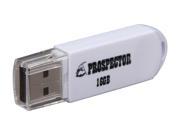 Mushkin Enhanced Prospector 16GB USB 2.0 Flash Drive
$10.99
USB Specification: USB 2.0 Dimensions: 57.89 x 20.02 x 9.55mm Features: Supports USB 2.0 and backward compatible with USB 1.1
SanDisk Cruzer 16GB USB 2.0 Flash Drive
$13.49
USB Specification: USB 2.0 Dimensions: 2.31" x 0.8" x 0.4" Weight: 0.04 lbs. Features: Take it all with youa€"on reliable USB flash drives Transfer with confidencea€"when moving images and other files from computer to computer or other CE devices Trust the minds behind flash memorya€"to keep your files safe and secure with a five-year limited warranty Parts: 2 years limited Labor: 2 years limited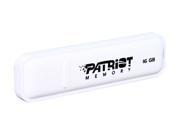 Patriot Xporter 16GB USB 2.0 Flash Drive
$11.49
The Patriot Xporter PSF16G USB Flash Drives is compact and easy-to-use. The computer will automatically detect it as a removable drive by simply connecting it to any USB port. Available in 16GB capacity, you can easily store, carry and transport your favorite media (audios, videos pictures) and documents. Whether you're bringing your latest video editing project home to work on, taking some digital videos over to show your friends, or bringing your photos to show off, you'll have plenty of room on this incredible compact drive! USB Specification: USB 2.0 Dimensions: 72.3 mm Length, 17.1 mm Width & 1 mm Thick Weight: 5.5g Features: Hi Speed USB 2.0 Compatible (backwards compatible to USB 1.1) Easy plug and play functionality Compatible with Windows 7, Windows Vista, Windows XP, Windows 2000, Windows ME, Linux 2.4 and later, Mac OS9, X and later Parts: 2 years limited Labor: 2 years limited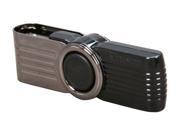 Kingston DataTraveler 101 Gen 2 16GB USB 2.0 Flash Drive (Black)
$12.99
Take your daily used files with you wherever you go with the Kingston DataTraveler 101 Gen 2 USB flash drive. This premium flash drive gives you ability to cram your data into a small footprint and use it anywhere. Best of all, the convenient, easy-rotate design allows easy swivel-in and swivel-out, and eliminates the hassle of losing cap. USB Specification: USB 2.0 Dimensions: 57.18mm x 17.28mm x 10.00mm Parts: 5 years limited Labor: 5 years limited
Kingston - DataTraveler 101 Generation 2 16GB USB 20 Flash Drive
$10.98
Kingston DataTraveler 101 Generation 2 (G2) is here! This convenient storage companion lets you take all of your data to your home, office, school and anywhere you travel. Now with urDrive, it gives you a better way to look at your data while combining cool features to make it your own. Easily store, organize and share your favorite photos through the built-in photo viewer, search the convenient built-in Internet browser and view the cool AppZone for new apps to try all in a flash. In the months ahead, urDrive will update to offer even more apps and features. This portable USB 2.0 flash drive provides 16GB of storage space so you can easily bring your files with you wherever you go.
$12.99
PNY HP 16GB USB 2.0 Flash Drive - 16 GB - USB - External
PNY - Metal Attach? 16GB USB 20 Flash Drive
$14.99
Store special photos, videos, music and other media on this PNY Metal Attach? 16GB flash drive that features a high-speed USB 2.0 interface to ensure fast, efficient data transfer.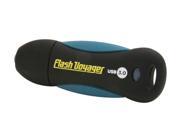 CORSAIR Flash Voyager 16GB USB 3.0 Flash Drive
$17.99
USB Specification: USB 3.0 Read Speed: up to 52 MB/s Write Speed: up to 23 MB/s Dimensions: 74mm x 23mm Features: Durable - Corsair's proprietary all-rubber housing is extremely durable, water resistant and drop-tested for worry-free transport of your valuable data Fast - Access videos, pictures and large files with up to 4x faster read speeds than traditional USB 2.0 drives Backed by Corsair - A respected name with a passion for quality and customer service
Transcend JetFlash 500 16GB USB 2.0 Flash Drive (Green)
$11.99
USB Specification: USB 2.0 Dimensions: 63.1mm A- 21mm A- 8.8mm Weight: 10g Features: Capless design with a sliding USB connector Fully compatible with USB 2.0 Easy plug and play installation USB powered. No external power or battery needed Offers a free download of JetFlash Elite data management tools Parts: Lifetime limited Labor: Lifetime limited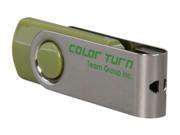 Team Color Turn 16GB USB 2.0 Flash Drive (Green)
$11.49
Color Turn E902 USB disk is launched by Team with full consideration of capacity, price, and performance. With the Color Turn E902, users can store documents, media files, digital photos, and personal mails with its USB2.0 high-speed transfer performance. The appearance and size are absolutely ergonomic and modern. With its metallic swappable design, the consumer will never have to fear losing the cap again. Color Turn is specially designed for the consumer who is looking for a affordable, large capacity USB drive that does not look like any other one thata€ s on the market. Ready Boost: Yes USB Specification: USB 2.0 Read Speed: Up to 20MB/Sec Write Speed: Up to 10MB/Sec Dimensions: 55 x 17mm Weight: 11g Features: USB 2.0 compatible High speed transfer interface 360 degree rotation Capless design Hot USB Plug & Play Supports energy saving mode Compatible with Windows ME, Windows 2000, Windows XP, Windows Vista, Windows 7, Mac OS 9.X or later, Linux Kernel 2.4 or later Parts: Lifetime Limited
Rocketfish - 16GB USB Flash Drive
$37.99
This flash drive features a 16GB capacity to store data files, music, videos, photos and more. The compact design makes it easy to take your digital files with you when you're on the go.
Corsair - Flash Voyager GT 16GB USB 30 Flash Drive
$29.98
This Corsair Flash Voyager GT USB 3.0 flash drive features a spacious 16GB capacity, letting you store important files for on-the-go access. Read speeds up to 140MB/sec. and write speeds up to 45MB/sec. provide fast data transfer to and from a computer.
See some External Hard Drives>>
See some Network Attached Storage>>